0 nm to 259 nm * Kiel - Samsö - Göteborg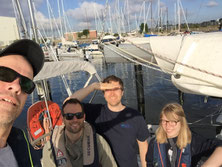 To start off this years summer trip, Lyonesse had to be brought from Kiel in Germany to Gothenburg in Sweden. Starting the trip already presented difficulties, with a lost suitcase and no car to bring provisions. The crew of four arrived on Wednesday night and we left Kiel the next morning, after somewhat successfully leaving the marina (it took two tries, since we forgot to disconnect the shore power). The weather forecast was not in our favour, with little to no wind on Thursday morning, then increasing and coming from behind, leaving us in danger of jibing unintentionally. Despite of the wind, the morning was not uneventful, as we spotted a submarine, probably from the German navy, next to us. After passing under the impressive Storebælt bridge, which spans an incredible 6.7 km, the wind turned, resulting in a close hauled course, and increased to about 20 knots (predicted to increase even more). This made us decide to seek shelter in Samsø, which gave us the opportunity to regain strength and sleep in (and take a much appreciated shower).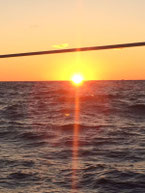 Although the wind strength decreased a bit the next day, the direction still sucked, there's just no other way to describe it. This meant a lot of tacking and a close hauled point of sail for pretty much all the way from Samsø to Gothenburg. Sailing the last bit towards Gothenburg turned out to be an amazing experience because, while crossing the skerries, we saw a sperm whale. After googling we found out that that's apparently an extremely rare occurrence in the Baltic sea.
http://de.whales.org/news/2016/05/pottwal-ostsee-oeresund
http://www.valar.se/aktuella-observationer/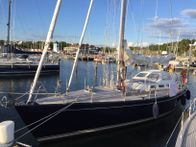 Finally after approximately 29 hours of sailing, we arrived at the marina and celebrated the end of the trip by having a massive burger. Having some time until our flight back home, we spend the next day exploring the town of Gothenburg, which was a nice way to end an overall pretty awesome trip.