870nm to 1.051 nm * Tallinn - St. Petersburg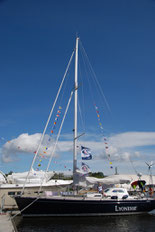 When I first arrived in Tallinn I was surprised by the size of the city, it was smaller than I would assume for a capital. Despite the size, the old town was lovely; cute little houses, an old wall and good food.  After a few days in Tallinn where I had the chance to meet the other participants of the ARC Baltic, a lot different people who are all very welcoming, we set off to Kronstadt, where we had to wait for "a bit" while Russian officials checked our passports and boat. Later we sailed off to Saint Petersburg. Although that was only the last 15 nautical miles of the whole journey, it was the most uncomfortable part as it was raining buckets and it was not easy to navigate between the commercial ships in the narrow shipping lanes. Close to Saint Petersburg hydrofoils were heavily annoying me while at the helm. Finally after 35 hours we reached Saint Petersburg central river yacht club, where we had a pleasant meal at the harbour restaurant (finally we had wifi again :P).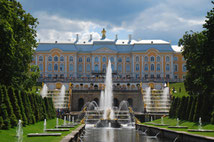 The next couple days we had the chance to see the hermitage, Peterhof summer palace, and the rest of city. In my opinion, it is a very diverse city, with a lot of palaces in one area, and old almost worn down buildings in another. We even got the chance to see a ballet in the Mariinsky theatre. Although that was interesting it was not really my cup of tea. I enjoyed the Leningrad Dixieland jazz band the next evening way more. Besides touristic highlights, one could admire beautiful wedding dresses... a lot of wedding dresses. Weddings in Russia seem to be quite fashionable; one day we saw 8 brides!

After a few exciting days in Saint Petersburg I look forward to the trip to Helsinki :)

- A.