330nm to 436nm * Warnemünde - Bornholm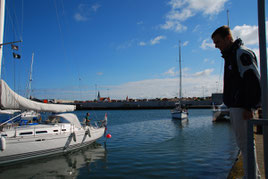 It's been almost a month since I have posted the first time. We are now already sailing and doing the ARC Baltic. I am writing from Bornholm the first stop with the rally.
While my dad was already on board for a week, my mom and me joined him in Kiel. We used the following days to sail to Warnemünde for that's the place where the ARC Baltic starts. Yeah, the ARC Baltic... The rally turned out to be even more exciting and amazing than I thought it would be, and I already thought it was great. We spend the first evening in Warnemünde meeting other crews in the rally and trying to memorize about a thousand names (probably only 10 or so, but I'm horrible at memorizing them). The rally started on Monday but we had a dinner and a briefing on Saturday and Sunday. It's hard to describe the two days but I can say that I met some amazing people and I am happy to spend the next four weeks with a friendly and impressing group like this. Although I really need to practice my English, it's been a lot of fun meeting people from all over the world. Accompanied by Pascal, a journalist for a German yacht magazine, we started the 110 nm long journey to Bornholm. While I was sleeping almost the whole night, my parents and Pascal took turns steering the boat through a clear night. Although I was tired and wanted to sleep, I at least enjoyed a breathtaking sunset on the water. I don't know how to describe it but the night was a bit shaky? due to high waves coming from behind. The arrival was another part of the journey that was outstanding. Although everyone left Rostock at different times, it seemed as though we all arrived at the same time in Ronne (around 8 o'clock in the morning). It was crowded in the harbor, but the World Cruising Club did a great job taking our lines and helping us wherever they could.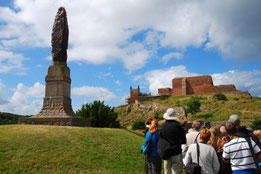 Most people spent the rest of the day sleeping and trying to find some rest. In the evening we then all gathered and had a nice BBQ. There wasn't enough space on our table, so I sat on a table with two or three other crews. They took very well care of me (we were joking and had a lot of fun), and the day ended as it had begun, amazing and crowded.
We spent the next days exploring the island by bike and bus. Unfortunately we are stuck in the harbor due to strong winds up to 40 kts. No start to Gotland until Saturday... At least I now have enough time for this blog!

- Nele