259 nm to 484 nm * Göteborg - Marstrand - Härmanö - Fjällbacka - Alevikkilen - Stavern - Arendal - Kristiansand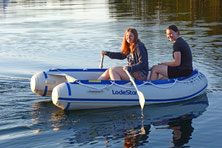 As some of you probably know, our trip this year began in Gothenburg. Since my sister and my brother couldn't join us for the whole trip this year, we had a bed to spare and decided to take a friend of mine, Aileen. Packing is always the beginning of the journey, when you realize that the time for holidays has finally come. In my whole life I have probably never done such a bad job on packing. After we put the (at this time I still believed) well packed bags into the car, my friend's mom took us to the airport and dropped us of early in the morning. That's when I realized that I had left my favorite pullover, that says Lyonesse on the right, on the table at home. On a boat a good pullover is almost as important as food or water. As I said I did a bad job on packing this year. We had a nice flight and arrived safely in Gothenburg and then later that day on the boat. To be honest, I didn't think much about how Sweden might look like before we got out of the plane (although I have been to Gotland last year, but only for 2 days). However, as soon as we were in Sweden I was extremely impressed by the nature and the (sometimes a little scary looking) rocks that are literally everywhere. The first days on the boat we spent a little differently than we do usually. At least Aileen and I did. We went to the city of Gothenburg and to a Rollercoaster park. It was a lot of fun, but not exactly the kind of stuff we usually do on the boat. After we basically just relaxed and prepared the boat for the first couple of days, we decided that it was time to get going. We were prepared, we were excited, we were ready, aaaanndd we hit a rock. I guess every sailor especially in Sweden, will hit a rock now and then but let's be honest, it sucked. So we went right back to Gothenburg where (of course!) someone had already taken our spot. 

After everything was settled and we were sure nothing was broken, we started a second try the next day and successfully made it to Marstrand. Marstrand was a great place to start our journey. It was sunny and the town was nice, there also was a lot to see, like a fortress, and it had some great restaurants to have dinner in. Also I had realized, that I had forgotten my bathing suit and therefore had to find a new one - which I did (again: really bad packing skills). After that we went out to anchor (which was nice but the nature around basically consisted of stones and stones only and looked a little bit sad to me), and then arrived in Fjällbacka. Although Marstrand was supposed to be the spot where all tourists wanted to go, it seemed as though the real place to be was Fjällbacka. Not only did it look wonderful, but it was also so crowded that we had no choice but to join a so called "package" and were the fifth one in the row. Since it was so nice in Fjällbacka we decided to stay another night and even managed to get a spot just for us. What came next was probably my favorite place. We went to anchor just about 30 miles away from Fjällbacka and it was sooo pretty. It was so quiet and calm that everyone immediately relaxed. We all even went for a swim since it was incredibly hot and the water had heated up over the day. I wouldn't say it was warm but it was definitely an enjoyable temperature.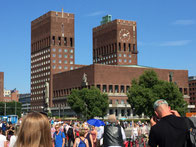 The next day we sadly :( needed to leave and sailed to Stavern near Larvik in Norway and stayed to take the train to Oslo the next day. Oslo impressed me almost as much as the Swedish nature did the first time I got out of the plane. It is a nice, warm city and has a lot to offer. We walked around a bit and later looked at a Viking museum. The next day the weather gave us some trouble so we decided to wait until the evening to sail to Arendal. We did and sailed overnight to the pretty little city. Arendal was a bit bigger than Marstrand and Fjällbacka but just as nice and just as pretty. The last sailing we did was yesterday when we arrived in Kristiansand to fly home. Overall, we had rainy days and sunny days, wins and losses (like a camera), good and bad (rocky) experiences, but in the end the sunny days overwhelmed the rainy days, the wins make me forget the losses and even a bad experience is something to learn from (and trust me we did!). So as always, I leave the boat thinking: "I just can't wait to come back". And as every year, I not only bring back souvenirs but also a ton of stories to tell.
P.S.: Nearly forgot to mention - we saw some familiar faces from ARC Baltic last year. In Gothenburg we ran into Mike and Pene from Northern Light, in Stavern we met Marga who crewed on Gertha IV. What a nice surprise!